Mobility semester
Begin of page section: Contents: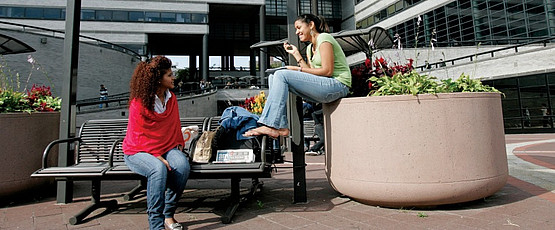 Application information regarding the admission procedure and requirements as well as a comprehensive information package with all necessary steps will be sent to you by your mobility university before the start of the mobility semester.
Students in their mobility phase are regarded as regular/regular-equivalent students and will be granted normal access to the facilities of the host university.
The individual Offices of International Relations or the respective counterparts support the guest students by providing them with information on accommodation, infrastructure, language courses, support for disadvantaged students, and if applicable, visa requirements.
Finances: Scholarships for the mobility semester have to be applied for at your entrance university (never at the mobility university).
Fees: Students completing the obligatory semester abroad as part of the master's programme are not charged any tuition fees at the mobility university provided they pay any fees required at their entrance university.
Local fees and health insurance provisions may vary per institution and have to be paid during the mobility period as well.
End of this page section.
Go to overview of page sections.