Alumni & Testimonials
Begin of page section: Contents: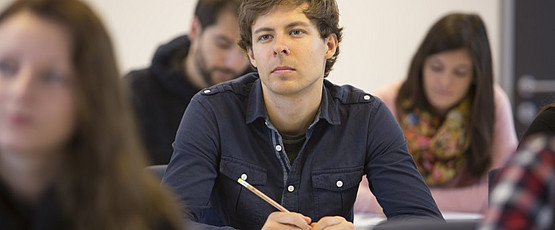 Morana Lukac, MA
Doctoral researcher, Leiden University Centre for Linguistics, 2012
The Joint Master's Program in English and American studies offered me the specialization in Linguistics I was looking for after obtaining my first degree, but in the end I acquired skills which went far beyond my initial expectations. With the assistance of our academic coordinator and several professors at both my home university in Graz and in Bamberg, where I spent my mobility semester, I produced my first publications and presented at conferences. Aside from the preparations I had for entering academia, I had enough time to learn German, and explore courses not strictly related to the curriculum, such as Virtual Team Building and Theatre, which were all beneficial in their own right. The program certainly offers enough variety to cater to anyone's individual preferences.
Another thing which I quite appreciated was the special care and attention the Joint Degree students were given within the institutions. Regular lunch meetings with our academic coordinator and the self-organized Sunday brunches in Bamberg really made me feel part of a special international community. It goes without saying that I met many interesting people, established personal contacts across the globe and enjoyed the flourishing student life in both Graz and Bamberg. Looking back at my education, I can honestly say that the Joint Master's Program in English and American Studies has contributed most to my personal and academic growth. I would repeat the experience in a heartbeat.
Matteo Scotto, MA
Interview from infoscari

Matteo Scotto is a graduate cafoscarino of 'European Joint Master's Degree Inglese and American Studies the biannual English-language involving six universities in Bamberg (D), Graz (A), New York (USA), Paris Diderot (F), Pécs (H), and Venice (I). He now lives in Bonn and works at the German Academic Exchange Service (DAAD).

He tells us about his experience of the European

What was your path to university?

After graduating in languages ​​in Turin and Erasmus in Basel, I was chosen to Ca'Foscari along with nine other students in the Joint European Master's Degree in American Studies and Inglese. In fact I have always had a strong humanistic sensibility, which even today I do not mean to do without. In the meantime, perhaps because of the context of studies in which I was, I developed a strong interest in European integration. Due to the interdisciplinary approach of the Joint Degree Agreement and with several European universities and, I had the opportunity to study two semesters in Germany, attending courses in "European Affairs" take a course in Austria "International Court of Justice and Human Rights "and spend a period of research thesis at The City College of New York. I then graduated in November 2013 with a thesis in which I tried to compare the liberal tradition in key socio-economic European Union with the U.S., highlighting similarities and differences.

Now where are you and what do you do?

I live in Bonn. Having always had a special relationship with Germany, immediately after raduation I decided to go back. I was presented with the opportunity, I jumped at, to work, first as an intern, the "German Academic Exchange Service (DAAD), a major national agency linked to the Ministry of Education for the German international academic cooperation. Specifically I work in the department dedicated to the southern European countries, in which I work is the analysis and research data is administration of scholarships. Meanwhile, and this is what I do with great passion, I collaborate with a research center in Bochum, with which develop projects related to European integration. Starting this year, in particular, are able to put you in touch with the center of this nonprofit organization to which I belong, the Club Alpbach Trentino. With invaluable work of the guys from Trentino and the financial support of German, we are organizing some workshops throughout Europe on the topic of European civil society, calling from time to time students and young professionals from southern European countries. On these occasions, our guests have the opportunity to exchange views on various topics, and together to develop a constructive dialogue away from the bitter climate of national policy.

According to you what was the 'trump card' that has allowed you to have this experience?

Believing strongly in Europe and grasp the immense possibilities it offers us the European Union and the community context in which we live. The secret is to realize that learning a foreign language, an individual can gain access to the labor market of another country, taking advantage of the freedom of workers provided by our treaties. Especially in times of crisis, this dynamic is essential, because it allows you to look at where there are more chances for your career. Needless to say, learning a foreign language requires energy, will and cultural curiosity, and this is at the discretion of Ogun us.

How much do you think about your future career?

This is already my future. After two years in Germany and three in German-speaking countries, are professionally much more integrated in the German and the Italian one, where I do not think I would have had the same opportunity and I still. However, this situation did not create any problem. I am a European citizen, and working in Germany, France, Belgium, Spain or Sweden would not do for me no difference. Yes, maybe play a little 'strange serve in the institutions of a country that is not your own, but then Germany for the first enhanced my skills, and I can not but be obliged infinitely grateful.

What are your plans for the future?

work and engage every available energy to carry forward the European project that some enlightened minds, unfortunately few and increasingly rare, have in the past set up for all of us. I will begin by October, a school of European governance, which I hope will give me more skills and ability to engage on that front. I wish that all young Europeans have the same opportunities and the same reasons that I had to experience Europe in all its wondrous fullness of culture. In particular, I will continue to work within the framework of international academic exchanges, because I strongly believe in the process of European integration through university education or not. Projects such as the Joint Degree of Ca 'Foscari produce at the end of their course graduates with tools and cultural profiles fully European. In other words, European graduates in all respects. Not everyone will make it perhaps even realize, but this is nothing less than the future of higher education in Europe.

Read the original interview in Italian >>here<<.
End of this page section.
Go to overview of page sections.